From the real story to the book to the Broadway show and finally to the world-famous film, the story of the Von Trapp family is a crowd-pleaser and ranks high on the list of "Must-have-Seens" for Musical fans of all ages.
Photographs by Dirk Opitz (click ...)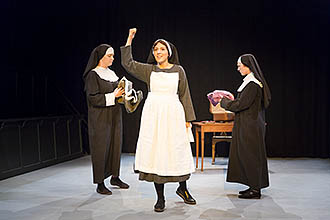 Maria wants to be a nun, but she cannot leave behind her free spirit and love for music and the mountains. To help her find her way, she is sent to the Von Trapp family as a governess for seven motherless children. Maria's jolly approach to life soon brings back joy and happiness to the Von Trapp family, until a dark shadow rises threateningly on the horizon.
This year, the English Drama Workshop will bring to life the musical with all its classic favorites and add a touch of Broadway to the ThOP stage. You will fall in love with the costumes, the story, and the children, but most of all the unforgettable music.
The show premieres on June 8th.
Attention: Performances start at 19:15, Matinees at 15:00!
Performances
Wednesday, June 8th Premiere at 19:15
Friday, June 10th Performance at 19:15 (*)
Saturday, June 11th Performance at 19:15
Sunday, June 12th Performance at 15:00
Wednesday, June 15th Performance at 19:15 (*)
Friday, June 17th Performance at 19:15
Saturday, June 18th Performance at 19:15
Sunday, June 19th Performance at 15:00
Thursday, June 23th Performance at 19:15 (*)
Friday, June 24th Performance at 19:15
Saturday, June 25th Dernière at 19:15
(*) marks Kulturticket acceptance